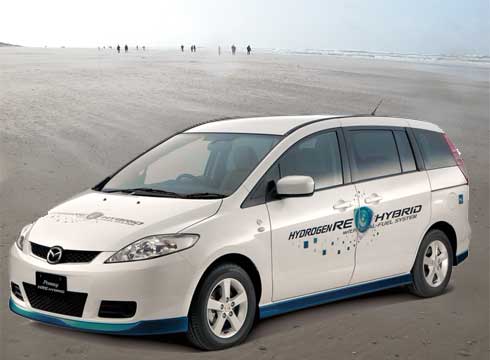 The Mazda 5 Premacy Hydrogen Hybrid runs on both gasoline and compressed hydrogen gas. Just pressing a button on the dashboard turns this minivan into a green vehicle and back again when more distance is needed. By introducing a bi-fuel hydrogen / gasoline ICE (internal combustion engine) Mazda is solving one of the key infrastructure issues revolving around just where does one buy hydrogen when so fuel stations are rolled out yet. This is one way to give manufacturers and distributors of hydrogen the incentive to roll out the hydrogen distribution network on a massive scale.

The hybrid unit and rotary engine are transversely mounted at the front of the car in a front-wheel drive layout with the high-voltage battery beneath the second row of seats (along with the gasoline tanki) and the hydrogen tank beside the last row of seats. This arrangement allows for a comfortable and roomy interior along with excellent driving performance and environmental benefits. Earlier versions of the bi-fuel mild hybrid system included regenerative braking, engine power assistance at low rpm's and stop-start capabilities, which have been carried over to the current Premacy as well.

Currently, the driving range of the Mazda 5 Premacy Concept on hydrogen is limited to around 124 miles before needing refueling. One advantage of using a rotary engine engineered to run on hydrogen is that it doesn't have the backfiring problems that typical internal combustion engines experience. Because the Mazda 5 Premacy's Renesis rotary engine has separate intake and combustion chambers, this makes it more ideal for burning hydrogen at lower temperatures.