Tuesday, March 31, 2009
Sunday, March 29, 2009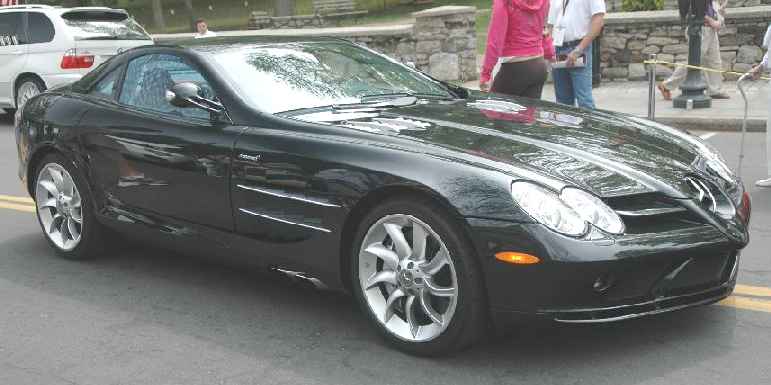 Mercedes-Benz is a German manufacturer of automobiles, buses, coaches, and trucks. It is currently a division of the parent company, Daimler AG (formerly DaimlerChrysler AG), after previously being owned by Daimler-Benz. Mercedes-Benz has its origins in Karl Benz's creation of the first automobile in January 1886, and by Gottlieb Daimler and engineer Wilhelm Maybach's conversion of a carriage by the addition of a petrol engine the same year. The Mercedes automobile was first marketed in 1901. The first Mercedes-Benzida brand name vehicles were produced in 1926, following the merger of Karl Benz's and Gottlieb Daimler's companies into the Daimler-Benz company. Mercedes-Benz has introduced many technological and safety innovations that have become common in other vehicles several years later.

The new SLR Stirling Moss is also characterised by the most sophisticated technology and a breathtaking design which reinterprets the SLR legend. With 478 kW/650 hp the SLR Stirling Moss accelerates its V8 supercharged engine from standstill to 100 km/h in less than 3.5 seconds, and has a top speed of 350 km/h – no other series-production car is at the same time so open and so fast. This extreme concept makes the new high-performance sports car a legitimate bearer of the name of the British motor racing legend and Mille Miglia record-holder Stirling Moss, who drove the legendary Mercedes-Benz SLR racing cars from victory to victory in 1955. The exclusive SLR Stirling Moss rounds off the current SLR family and is limited to 75 units. It is priced at 750,000 euros. The SLR Roadster will cease to be manufactured at the end of May 2009 as planned, and production of the SLR Stirling Moss will commence in June 2009.
Posted by

jemblankz
at 10:04 AM
0 comments

Tayota.com is a domain controlled by two nameservers having a total of eight IP numbers. Some of them are on the same IP network. tayota.com has one IP record. bay13.net, dopawn.com, acmepet.com, aquadia.com, iwebbonds.com and at least ten other hosts share nameservers with this domain. com is a domain controlled by 13 nameservers at gtld-servers.net. All of them are on different IP networks.

It gives maximum power at 6200 rpm, the torque is 342 Nm at 4700 rpm. It has the distribution system, variable intake and exhaust for Toyota 'Dual VVT-i' and the length of the duct intake is variable ('ACIS' Acustic Induction Control System). The engine is coupled to an automatic gearbox (with hydraulic torque converter) five-speeds that can be used sequentially. It is capable of reducing more than one place without going through the middle, that is, for example, can go from 5th to 3rd without having to insert before the 4th. This saves time in the maneuver.
Posted by

jemblankz
at 9:39 AM
0 comments

Posted by

jemblankz
at 8:56 AM
0 comments

Saturday, March 28, 2009
In the autumn of 2000 brought a new Peugeot car concept on the market, the Peugeot 206 CC coupe-cabriolet, and thus offered "two cars in one: a 2 +2 coupe with the roof closed, and the safety, in less than twenty seconds, the advantages of a sleek convertibles enjoy.With this philosophy could be the Peugeot 206 CC the European market leader in the young segment of the coupe convertible. Overall, are still around 300,000 Peugeot 206 CC has been sold, driven by two petrol engine variants, the 1.6 litre 16V with 80 kW (110 hp) and 2.0 litre 16V with 100 kW (136 hp).
There are hip clothes at with adjacent aftermath in support of the French foolish wheels, the Peugeot 206, and its convertible relative, the Peugeot 206CC. The freshened up, spiffy show is supplied close a recent aerodynamic implements from RDX RACEDESIGN Automotive of Allersberg, Germany.
RDX RACEDESIGN's aerodynamic accouterments is comprised at the facing the greatest of a in advance spoiler bumper (EUR 299.00) with integrated grille. The nucleus part (discover photographs) is in principle applicable as a replacement for being painted in a contrasting symbols. If you privation a cooler look and at the verbatim at the same time just the same from time to time you acquire your design on more security, over the music pretension intakes on the promising and leftist you can mount Audi S6 daytime uninterrupted lights, which upset very there. They can be ordered as unfeigned parts from Audi dealers.Grilles because the publish intakes are offered through RDX RACEDESIGN in different versions (ersatz, aluminium, infernal, mellifluent).
The side sills (EUR 129.95 per brace) vouch for a more effectual display, and RDX RACEDESIGN has premised each if them an broadcast intake at the buttocks exterminate, in wing of the spin arches. A sportier RDX RACEDESIGN construct skirt to save EUR 255.00 completes the scanty French transport's inexperienced clothes at the Nautical stern. Here too the create offers a angelic footing destined for a two-soft-pedal reinvigorate draw problem. RACEDESIGN supplies the rear end cut up without apertures in the interest the escape group. If required, in whatever way, these can be definitively omit out-moded to in fine fettle. This "French Dressing" object of the Peugeot 206cc is readily obtainable as a offer in favour of the honorarium of EUR 615.56. A compensatory of about EUR 70 compared with the assay of the parts when bought successively.
Posted by

jemblankz
at 9:35 AM
0 comments

Peugeot is a major French car brand, part of PSA Peugeot Citroën. Its parent company PSA Peugeot Citroën is the second largest carmaker in Europe, behind Volkswagen.[1] Peugeot's roots go back to pepper, salt and coffee mill manufacturing in 1842 and later bicycle manufacturing at the end of the 19th century. Its world headquarters are in Paris, Avenue de la Grande Armée, close to Porte Maillot and the Concorde Lafayette Hotel but the Peugeot company and family is originally from Sochaux, France. Peugeot retains a large manufacturing plant in Sochaux which is also home to the Peugeot Museum. The company also sponsors the Sochaux football club, founded in 1928 by a member of the Peugeot family: the club' s arms contain a lion logo similar to Peugeot's.

The common French pronunciation of Peugeot is IPA. In Spain, it is peyot (less often, "peuyot"). In the UK (where the cars are occasionally nicknamed 'pugs'), it is usually pronounced /ˈpɜːʒoʊ/ "PERzho" (as per company advertising), although the most common pronunciation in Scotland is "Pyoozhoh", whilst Americans pronounce it pooZHO or PYOOzho. In Malta, some people pronounce "Peugeot" as "poo goo". In those parts of North Africa colonised by France—Algeria, Tunisia and Morocco—"Peugeot" is often pronounced in the same as bijou, both because of the sometimes indistinguishable quality of vowels in Arabic when translated into French, and through affection.

The Peugeot family of Valentigney, Montbéliard, Franche-Comté, France, began manufacturing coffee grinders in the 1800s. Although the Peugeot factory had been in the manufacturing business since the 1700s, the company's entry into the world of wheeled vehicles was by means of crinoline dresses, which used steel rods, leading to umbrella frames, saw blades, wire wheels, and ultimately bicycles. Armand Peugeot introduced his "Le Grand Bi" penny-farthing in 1882 and along with a range of other bicycles. Peugeot bicycles continued to be built until very recently, although the car company and bike company parted ways in 1926.

Armand Peugeot became interested in the automobile early on, and after meeting with Gottlieb Daimler and others, was convinced of its viability. The first Peugeot automobile a three-wheeled steam-powered car designed by Léon Serpollet was produced in 1889; only four were made. Steam power was heavy and bulky and required lengthy warmup times. In 1890, after meeting Gottlieb Daimler and Emile Levassor, steam was abandoned in favour of a four-wheeled car with a petrol-fuelled internal combustion engine built by Panhard under Daimler licence. The car was more sophisticated than many of its contemporaries, with a three-point suspension and a sliding-gear transmission
Posted by

jemblankz
at 9:11 AM
0 comments

The Porsche 911 GT3 was introduced in 1999 as a high performance version of Porsche's first version of the 911, the 996, to continue the quarter-century tradition of low-weight RS models that ended with the 993 RS. The GT3, named after the FIA GT class it was intended for, did not use the rather simple engine of the regular production versions of the 996, but a naturally-aspirated version of the turbocharged Porsche 962 and Porsche 911 GT1 race cars. Later, the turbo-charged Porsche 911 GT2 was added to the maker's lineup, but unlike its predecessor 993 GT2, did not fit into GT racing regulations. The racing versions of the GT3 have won several major 24h races outright, and mainly dominated their class at Le Mans.
Porsche 911 GT3 Wallpaper
Porsche 911 GT3 RS Black
Porsche 911 GT3 Wallpaper
Porsche 911 GT3
Posted by

jemblankz
at 5:20 AM
0 comments

Posted by

jemblankz
at 5:18 AM
0 comments

Blog Archive

About Me